5/4/18 – 5/19/18
"'If it wasn't for the mist we could see your home across the bay,' said Gatsby. 'You always have a green light that burns at the end of your dock.' Daisy put her arm through his abruptly but he seemed absorbed in what he had just said. Possibly it had occurred to him that the colossal significance of that light had now vanished forever. Compared to the great distance that had separated him from Daisy it had seemed very near to him, almost touching her. It had seemed as close as a star to the moon. Now it was again a green light on a dock. His count of enchanted things had diminished by one." (Fitzgerald Ch. 5)
Summary
The Great Gatsby is the 1925 novel written by F. Scott Fitzgerald which is often praised alongside The Adventures of Huckleberry Finn as the great American novels. The novel follows Nick Caraway through his first person narration of his experience neighboring a man named Jay Gatsby. Nick opens the novel explaining his inclination to listen to others and be tolerant. In conjunction to his first person description of himself, Nick writes a description of an almost mythological figure called 'Gatsby'.
"If personality is an unbroken series of successful gestures, then there was something gorgeous about him, some heightened sensitivity to the promises of life, as if he were related to one of those intricate machines that register earthquakes ten thousand miles away. This responsiveness had nothing to do with that flabby impressionability which is dignified under the name of the 'creative temperament'— it was an extraordinary gift for hope, a romantic readiness such as I have never found in any other person and which it is not likely I shall ever find again. No—Gatsby turned out all right at the end; it is what preyed on Gatsby, what foul dust floated in the wake of his dreams that temporarily closed out my interest in the abortive sorrows and short- winded elations of men." (Ch. 1)
This passage instantly romanticizes Gatsby to a figure larger than life before he is in a single scene of the novel. Nick paints Gatsby as a contrast to moral corruptness of the "foul dust" around him.  Gatsby is told to the reader to be a personification of "hope" and "romantic readiness" whose dreams become squandered due to the corruption around him.
Nick moves to New York from Minnesota in 1922 to learn about the booming bond business. Nick is a graduate of Yale with connections to the old money families who reside in the "East Egg" of New York, but Nick establishes himself in a very modest residence next to an elaborate mansion in "West Egg." Nick drives out to East Egg to visit his cousin, Daisy Buchanan, and her husband, Tom Buchanan, who he had known in college. Nick's blunt description of Tom is that "[Tom had reached] such an acute limited excellence at twenty-one that everything afterward savors of anticlimax."
Daisy and Tom introduce Nick to a young professional golfer named Jordan Baker at their mansion. The four's dinner is interrupted by a telephone call asking for Tom. When both Tom and Daisy leave the room, Jordan informs Nick of Tom's infidelity towards Daisy and that the call is probably from his mistress. Later that night, Daisy and Nick go on a private walk together, where Daisy loudly exclaims that she hopes her daughter "will be a fool — that's the best thing a girl can be in this world, a beautiful little fool." (Ch. 1)
Nick returns home that evening to his modest abode in West Egg to notice a man standing outside on a neighboring dock. Nick considers calling out to the man who he presumes to be Gatsby, his notorious neighbor that Jordan had described to him over dinner, but he decides against it. Fitzgerald writes,
"I didn't call to him for he gave a sudden intimation that he was content to be alone—he stretched out his arms toward the dark water in a curious way, and far as I was from him I could have sworn he was trembling. Involuntarily I glanced seaward—and distinguished nothing except a single green light, minute and far away, that might have been the end of a dock. When I looked once more for Gatsby he had vanished, and I was alone again in the unquiet darkness." (Ch. 1)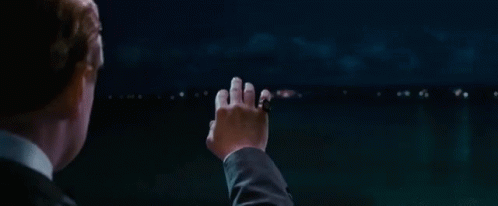 Not long after, Tom decides to invite Nick on an expedition into New York City. On their trip into New York City, Tom introduces Nick unabashedly to his mistress; a woman named Myrtle Wilson whose husband runs a modest garage in the "valley of ashes" and is completely oblivious to his wife's infidelity. The three journey into the city to a small but gaudy apartment, Tom humoring Myrtle by buying her a puppy when she asks for it as they pass a questionable vendor on the street. An intense party breaks out in the small apartment after Myrtle invites her friends to join them. The entire group begins drinking heavily, and in her drunkedness Myrtle begins to argue with Tom over Daisy after the subject of their unhappy marriages is broached by one of Myrtle's guests.
"Some time toward midnight Tom Buchanan and Mrs. Wilson stood face to face discussing in impassioned voices whether Mrs. Wilson had any right to mention Daisy's name. 'Daisy! Daisy! Daisy!' shouted Mrs. Wilson. 'I'll say it whenever I want to! Daisy! Dai——' Making a short deft movement Tom Buchanan broke her nose with his open hand." (Ch. 2)
Later, Nick receives an invitation from Gatsby to attend one of his lavish parties, his invitation, Nick realizes after some inquiry at the aforementioned party, is the only invitation Gatsby actually sent out, and Nick learns that every other attendee simply showed up with their own large group of people. Nick begins to inquire after Gatsby, asking those around him where the host is so that he can speak directly to him. Nick bumps into Jordan at the party, and through the questioning of guests realizes that no one has actually seen or talked to the host of the parties that they regularly attend.
Nick sits down at a table after drinking enough to begin feeling a bit tipsy, and strikes up a conversation with an unknown man around his age.
"At a lull in the entertainment the man looked at me and smiled. 'Your face is familiar,' he said, politely. 'Weren't you in the Third Division during the war?' 'Why, yes. I was in the Ninth Machine-Gun Battalion.' 'I was in the Seventh Infantry until June nineteen-eighteen. I knew I'd seen you somewhere before.' We talked for a moment about some wet, grey little villages in France. Evidently he lived in this vicinity for he told me that he had just bought a hydroplane and was going to try it out in the morning. 'Want to go with me, old sport? Just near the shore along the Sound.' 'What time?' 'Any time that suits you best.' It was on the tip of my tongue to ask his name when Jordan looked around and smiled… I turned again to my new acquaintance. 'This is an unusual party for me. I haven't even seen the host. I live over there——' I waved my hand at the invisible hedge in the distance, 'and this man Gatsby sent over his chauffeur with an invitation.' For a moment he looked at me as if he failed to understand. 'I'm Gatsby,' he said suddenly. 'What!' I exclaimed. 'Oh, I beg your pardon.' 'I thought you knew, old sport. I'm afraid I'm not a very good host.'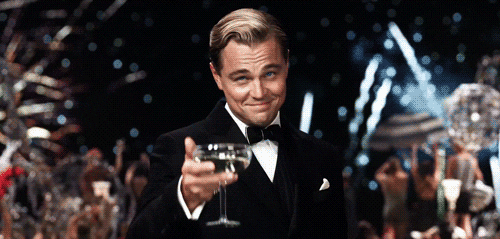 He smiled understandingly—much more than understandingly. It was one of those rare smiles with a quality of eternal reassurance in it, that you may come across four or five times in life. It faced—or seemed to face—the whole external world for an instant, and then concentrated on YOU with an irresistible prejudice in your favor. It understood you just so far as you wanted to be understood, believed in you as you would like to believe in yourself and assured you that it had precisely the impression of you that, at your best, you hoped to convey. Precisely at that point it vanished—and I was looking at an elegant young rough-neck, a year or two over thirty, whose elaborate formality of speech just missed being absurd. Some time before he introduced himself I'd got a strong impression that he was picking his words with care." (Ch. 3)
Gatsby asks Jordan to talk to him in private, and Jordan obliges. Afterwards, when Jordan and Gatsby emerge from their closed off library together, Jordan voices her amazement to Nick saying, "'It was—simply amazing…'But I swore I wouldn't tell it and here I am tantalizing you.'" (Ch.3)
Nick and Gatsby begin spending more time together, and Gatsby even takes Nick into town to meet his colleague Meyer Wolfshiem, and his introduction makes it clear to the reader that Gatsby has criminal connections, as Wolfshiem is described to have fixed the World Series as well as having cuff buttons made out of human teeth. Later, when Nick is having tea with Jordan, Jordan explains that Gatsby is in love with Daisy and that the two met years ago when Gatsby was a military officer and couldn't offer means to financially support Daisy. It is revealed that Gatsby's extravagant parties have been an attempt to get Daisy's attention, and that Gatsby now hopes for Nick to arrange a meeting between the two of them.
Nick consents, and Gatsby goes to pains to make sure that Nick's house is perfectly prepared for Daisy, getting Nick's grass trimmed and filling Nick's house with flowers. When Gatsby arrives initially it is pouring rain, and Gatsby is terrified. Gatsby flees the house when Daisy finally does arrive, Nick telling her to ask her driver to leave, and Gatsby makes a secondary awkward entrance after Daisy and Nick have reentered the house.
"[Daisy] turned her head as there was a light, dignified knocking at the front door. I went out and opened it. Gatsby, pale as death, with his hands plunged like weights in his coat pockets, was standing in a puddle of water glaring tragically into my eyes." (Ch. 5)
In shock, Daisy awkwardly exclaims, "I certainly am awfully glad to see you again." (Ch. 5) The two continue a fumbling encounter as they struggle to relieve the awkwardness of their reunion. Nick attempts to leave the two alone, which Gatsby initially contests, but after a brief walk around his house Nick notices it has stopped raining and reenters his house to find Daisy and Gatsby lovingly reunited. Gatsby excitedly takes Daisy over to his mansion, delighting in demonstrating his now exceptional amount of wealth and material possessions to Daisy. Gatsby asks a worker in his house, Mr. Klipspringer, to play piano for the two of them, which Mr. Klipspringer initially contests to on the account of being out of practice, but Gatsby insists and Klipspringer relents and Gatsby begins dancing with Daisy almost in a trance. Nick observes,
"As I went over to say goodbye I saw that the expression of bewilderment had come back into Gatsby's face, as though a faint doubt had occurred to him as to the quality of his present happiness. Almost five years! There must have been moments even that afternoon when Daisy tumbled short of his dreams—not through her own fault but because of the colossal vitality of his illusion. It had gone beyond her, beyond everything. He had thrown himself into it with a creative passion, adding to it all the time, decking it out with every bright feather that drifted his way. No amount of fire or freshness can challenge what a man will store up in his ghostly heart." (Ch. 5)
Nick describes Gatsby's true origins in an intervention to the "present day" in which he is detailing the narrative. He explains that Gatsby was born as James Gatz to poor farm people. Gatz had tremendous ambition and imagination which he could not realize until he met Dan Cody, a man who sailed his yacht past Gatz on Lake Superior and who Gatz approached, introducing himself as Gatsby. Cody became Gatsby's mentor and afterwards Gatsby made a fabricated history for himself and built his fortune by the time of Cody's death.
Gatsby invites Daisy and Tom to one of his parties, and Tom speculates upon the dishonest ways that Gatsby could have made his fortune. While Tom is distracted with other women, Daisy and Gatsby sneak away and Nick acts as their guard. Besides her time alone with Gatsby and some initial amazement at the celebrities present at the party, Daisy soon finds herself "appalled by West Egg…appalled by its raw vigor that chafed under the old euphemisms and by the too obtrusive fate that herded its inhabitants along a short cut from nothing to nothing. She saw something awful in the very simplicity she failed to understand." (Ch. 6)
After the guests and Daisy and Tom have left, Gatsby laments to Nick that Daisy didn't enjoy the party. Gatsby struggles to explain his depression over Daisy's supposed inability to understand and how it didn't used to be like that in Louisville where they met and Nick realizes that,
"He wanted nothing less of Daisy than that she should go to Tom and say: 'I never loved you.' After she had obliterated three years with that sentence they could decide upon the more practical measures to be taken. One of them was that, after she was free, they were to go back to Louisville and be married from her house—just as if it were five years ago." (Ch. 6)
When Nick slowly explains to Gatsby that he can't repeat the past, Gatsby replies by crying incredulously, "'Can't repeat the past?…Why of course you can!'"
Gatsby and Daisy continue their affair into the summer until one exceptionally hot day in which Gatsby, Nick, and Jordan head to the Buchanans for lunch. Daisy suggests that their party heads to the city to cool down, but in doing so glances at Gatsby. Fitzgerald writes,
"'Ah,' she cried, 'you look so cool.' Their eyes met, and they stared together at each other, alone in space. With an effort she glanced down at the table. 'You always look so cool,' she repeated. She had told him that she loved him, and Tom Buchanan saw. He was astounded. His mouth opened a little and he looked at Gatsby and then back at Daisy as if he had just recognized her as some one he knew a long time ago." (Ch. 7)
The five head into the city; Tom, Nick, and Jordan take Gatsby's car while Daisy and Gatsby take Tom's coupe. Tom stops at Wilson's garage for gas and it is revealed to him that Wilson has learned of Myrtle's infidelity, although he does not know with whom, and that he plans to take Myrtle out of New York to the West.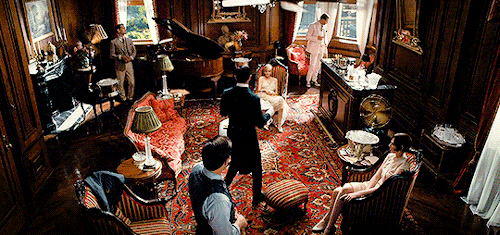 Tom, Nick, Jordan, Daisy, and Gatsby get a room in the Plaza hotel where they get ice and continue drinking. In the hotel room Tom begins badgering Gatsby on smaller things like his continual use of the expression"old sport" and his past until it escalates to Tom attacking Gatsby outright about his relationship with Daisy and Daisy's infidelity. Gatsby fires back at Tom, telling him that Daisy never loved him and urging Daisy to confirm to Tom that she never loved him. Daisy struggles, futilely attempting to stop the confrontation between Tom and Gatsby, but Gatsby continues to insist.
"'Please don't.' Her voice was cold, but the rancour was gone from it. She looked at Gatsby. 'There, Jay,' she said— but her hand as she tried to light a cigarette was trembling. Suddenly she threw the cigarette and the burning match on the carpet. 'Oh, you want too much!' she cried to Gatsby. 'I love you now—isn't that enough? I can't help what's past.' She began to sob helplessly. 'I did love him once—but I loved you too.' Gatsby's eyes opened and closed. 'You loved me TOO?' he repeated." (Ch. 7)
Gatsby claims that Daisy will leave Tom, but Tom dismisses the notion entirely. Daisy and Gatsby head home in Gatsby's car, but on their way home it is later revealed that Daisy was the one that hit Myrtle Wilson when she ran into the middle of the road towards the car that she thought was Tom's, and that Daisy didn't bother to stop. Nick reunites with Gatsby outside the Buchanans house where Gatsby is watching to make sure Daisy is okay, and where Gatsby reveals that Daisy was the one who had been driving his car but that he intends to take the blame.
The next day, Tom tells Wilson that Gatsby was the owner of the car that killed Myrtle, and Wilson presumes that the driver of the car had been the man whom Myrtle had also been having an affair with. Wilson finds Gatsby at the pool of his mansion and shoots him dead. Wilson then commits suicide with the same gun.
Nick struggles to arrange Gatsby's funeral as he can't find friends of Gatsby's to attend the funeral as Daisy ignores his calls, Wolfshiem refuses to attend, and none of Gatsby's party guests are interested in honoring the man himself. Henry C. Gatz sends a telegram to indicate that he will be coming from Minnesota to bury his son and is amazed by the amount of wealth that Gatsby was able to accumulate. Gatsby only has Nick, Henry Gatz, a few servants, and Owl-eyes, an omniscient character, at his funeral.
Nick runs into Tom later and becomes completely disillusioned and disgusted by people like Daisy and Tom stating,
"I couldn't forgive [Tom] or like him but I saw that what he had done was, to him, entirely justified. It was all very careless and confused. They were careless people, Tom and Daisy—they smashed up things and creatures and then retreated back into their money or their vast carelessness or whatever it was that kept them together, and let other people clean up the mess they had made." (Ch. 9)
Nick decides to head back to the Midwest, closing the narrative of the novel by writing,
"And as I sat there brooding on the old, unknown world, I thought of Gatsby's wonder when he first picked out the green light at the end of Daisy's dock. He had come a long way to this blue lawn and his dream must have seemed so close that he could hardly fail to grasp it. He did not know that it was already behind him, somewhere back in that vast obscurity beyond the city, where the dark fields of the re- public rolled on under the night. Gatsby believed in the green light, the orgastic future that year by year recedes before us. It eluded us then, but that's no matter—tomorrow we will run faster, stretch out our arms farther…. And one fine morning—— So we beat on, boats against the current, borne back ceaselessly into the past." (Ch. 9)
Characters
Jay Gatsby: A true self made entrepreneur who has harbored a five year fantastical infatuation with Daisy Buchanan after a courtship in Louisville when he was poor. Reinvents himself from humble origins to achieve "greatness" and in order to win Daisy as his own.
Daisy Buchanan: A southern belle from a wealthy background who marries Tom Buchanan and resides in East Egg. Represents old wealth and money. Her voice is "made of money."
Tom Buchanan: Went to Yale with Nick, comes from old money, multiple adulterous affairs throughout his marriage to Daisy, racist and mysongistic.
Nick Carraway: The narrator who describes himself as "one of the few honest people I have ever known." Daisy's cousin and Tom's classmate at Yale who lives in a modest house neighboring Gatsby's extravagant mansion.
Jordan Baker: A professional golfer who is unmarried and straddles her time between East and West Egg society, has a relationship with Nick.
Overall Thoughts & Review
There's a reason that this novel is considered great, and it extends far beyond its title. In my opinion, The Adventures of Huckleberry Finn and this novel really encompass the essence of the American experience through their explorations of American racism and classism. The Great Gatsby explores the notion of the "American Dream," personified through Gatsby himself; a self made millionaire with deeply seeded romanticism and imagination.  The conflict between the Buchanans and Gatsby really gets at the heart of the American experience, with Gatsby's death solidifying Fitzgerald's message that Gatsby, and furthermore the notion of a realized American dream, cannot exist in a world polluted by "foul dust." The existence of easy, inherited wealth like that of the Buchanans corrupts the American dream and ultimately destroys it, as it did in Gatsby's case. The Buchanans are horribly unlikeable because the Buchanans have always existed and will always exist in American society, and their prevalence bars the realization of propagated American economic idealism. Daisy herself is probably so distinctly unlikeable because she shows how the solidification of the American upper class is a more powerful force than sacrificial love and personal fulfillment. The Buchanans personify wealth, demonstrating the exorbitant power of wealth in our society, a power which allows them to break things, even killing without consequence, a reality which many of us would rather ignore in our society and return to the comforts of believing in American equality and the American Dream.
Besides his commentary on the American dream, Fitzgerald also makes really thought provoking commentary on the nature of God in a corrupt and morally bankrupt society, Eyes are perhaps the most interesting symbol in The Great Gatsby, signifying an omniscient God in the character Owl-Eyes and the large bespectacled eyes of Dr. T. J. Eckleberg. Fitzgerald tackles one of the most fundamental questions of religion: how can a benevolent God allow for evil to exist and even prosper? Fitzgerald answers this question by presenting God as a pair of disembodied eyes who look over the valley of ashes and many pivotal scenes in the novel, and an omnisciently intelligent character who rejects any sort of responsibility for incidents he observes. Fitzgerald argues that God can see, but cannot act. Through Owl-Eyes's statement at Gatsby's funeral that Gatsby was a "poor son-of-a-bitch," Fitzgerald presents God as one who recognizes the inequity and injustice of our society, a society in which Gatsby pays the price for the sins of Daisy and Tom, but God cannot interfere nor act in any of the scenes he observes.
There are so many themes that I loved diving deep into while reading this novel, but I'm going to refrain myself due to the fear of this turning into an essay. Other themes that I would consider tracking while reading this novel would be femininity, female objectification and female gender roles, cynicism post World War 1, social mobility (who has access to it and to what extent), the fleeting nature of economic prosperity, and the larger notion of futility.
This is the sort of novel where every scene feels carefully planned out in a larger map of motifs and symbols, and while it's plot carries the novel on its own, I found it exhilarating to really read this novel critically and analytically for the larger messages it presents. This novel is a literary masterpiece, both thematically and technically in the beautiful language it is written in. Everyone, especially every American, should read The Great Gatsby as it will make every reader rethink the American experience, as well as reassessing the tangibility of equality and the nature of justice in society. I love this novel whole-heartedly and would recommend it to anyone who feels that they can appreciate the language and all that is thematically presented by Fitzgerald over the course of the novel.
Rating: 4.8/5
______________
Holy cow this review took me a long time to write, but I finally finished it (phew!)
Please make sure to follow, comment, and like so that I can keep you all up to date with more content and book reviews.
Happy Canada Day and Fourth of July to all that are celebrating! Hopefully this summer will allow you greater opportunity to read for pleasure.
I'll have a next post up soon, but in the meantime, happy reading!
xoxo.